To offer a prompt resolution to unhappy customers every station staff member has the ability to offer large groups of customers a 50% off discount or a complimentary journey for future travel following a major incident. All we ask is that OCS is updated with details of the resolution that's been offered to the customer, before distributing the 'We're Sorry' card with an apology.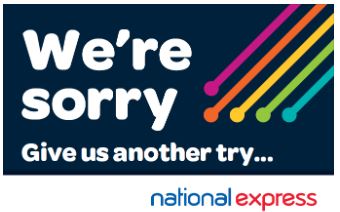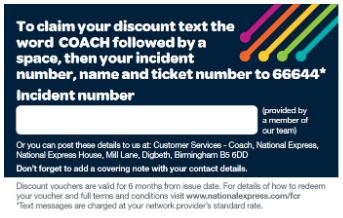 You will be best placed to determine the level of discomfort and dissatisfaction that has been caused, and to make recommendations to recover the customer at source. Liaise with your local manager (where available) and agree to offer either a 50% discount or a free journey. The compensation grid on the next page provides guidelines to help you come to a decision. As the conversation may be audible to passengers it will be important to use the following phrases when discussing the suitable response with National Express staff:
"Option A" for a complimentary journey "Option B" for 50% off "Option C" for Apology & Explanation
An announcement and apology should be made and the card distributed to all those affected. Make sure you include the incident number on the reverse of the card before distributing. Customers can expect to receive their discount journey voucher within 10 working days which can be redeemed online, at Coach Stations or via the Contact Centre. It's important to note that the text messages received by Customer Relations is not a constantly monitored mailbox, and will be reviewed daily.
Customer Recovery Web Form: Alternatively, when dealing with a customer on a 1:1 basis that requires follow-up action, you should use the Customer Recovery Web Form to provide details of the incident, enabling a full investigation to take place.
An apology is provided to the customer and full details taken. Ask the customer if they reported the incident at the point it occurred (e.g. was it reported to the driver?). By establishing whether it has been reported and if any action was taken at the time (e.g. issue of a free journey recovery card by the driver), will provide us the opportunity to resolve the matter there and then.

Empathy and understanding should be demonstrated together with active listening. Where possible, preliminary investigations should be made, by checking if an incident has been recorded through OCS, or if a delay or non-arrival of a coach occurred by checking U-track.
Customers should be assured that whilst further contact may not be necessary, action will be taken as appropriate to identify the root cause – this may be by referring the complaint to the operator/site/department as appropriate to pass on the feedback or concern.
It should be made clear that patterns and trends are monitored, whether this is on an individual staff basis or in relation to a recurring issue.
The form should be completed, agreeing the action that should be taken, which can include an email or follow-up letter from the correspondence team.
A reference number can be provided to the customer immediately, making it clear whether they should expect to hear anything further from us. In this event, customers should be advised to expect a follow-up response within 7 days.