Make sure you have a fantastic festival experience with this packing checklist!
So, you've bagged those tickets to that festival you've been dying to go to, and now it's time to pack your bag! You're excited for the buzzing atmosphere, amazing music, and memories that will last you a lifetime. Sometimes amongst all the excitement, it's easy to leave something at home.
That's why we've put together a list of festival must-haves that are going to ensure you have the best time!


The bare necessities
These are things you're not going to get very far without. Make sure your festival ticket, money and ID are all stashed away safely, perhaps in a handy bum bag or rucksack that's easy to take around the venue with you.
Make sure your travel to and from the venue is taken care of too, and you've got any tickets you need to get around. You don't need to pay a fortune either - we'll take you right to the heart of some of the largest festivals across the country affordably, so you can save your pennies for some delicious festival food and drinks instead.


Spending the weekend camping?
Sleeping probably isn't the first thing on your mind, but getting a good rest will ensure you can keep dancing all weekend long. Double-check that your tent and tent pegs are all together and that your sleeping bag, air bed or sleeping mat are all in good condition. A blow-up camping pillow is a good idea, but if you only have regular pillows just make sure you don't get them too muddy!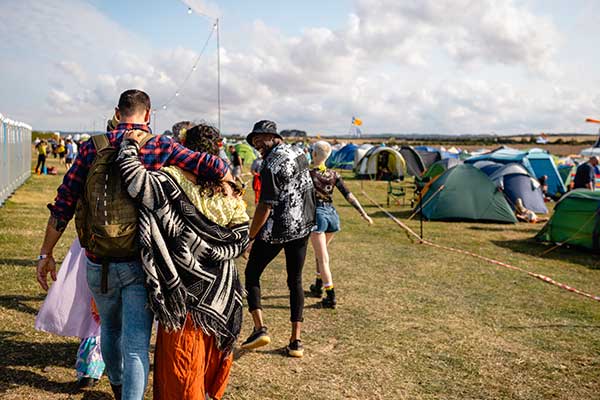 Keeping 'clean'
Staying clean at festivals can be challenging, but there are ways to freshen up. Pack toilet paper, dry shampoo, and a washcloth with soap. Wet wipes may not be allowed at some festivals due to their harmful impact on the environment with microplastics and methane emissions in landfills. Don't forget your everyday essentials like a toothbrush, toothpaste, hairbrush, and deodorant.


Keeping safe and healthy
A first aid kit is always a good thing to have with you in case of cuts and scrapes, as well as paracetamol for any morning headaches. Don't forget to wear sun cream when you're enjoying the outdoors all day, and a little bottle of hand sanitiser in your bag is a rather useful addition too.


What to wear
You might be tempted to don short shorts and flower crowns, but let's be honest – British weather isn't very reliable!
If the rain comes, waterproofs and wellies are a must, otherwise, you might lose your favourite shoes to the mud. Clothes that dry quickly are a good idea too, as well as spare underwear and socks, so you don't have to wear damp clothes the whole time. If you get a nice sunny weekend, you'll want a hat and sunglasses.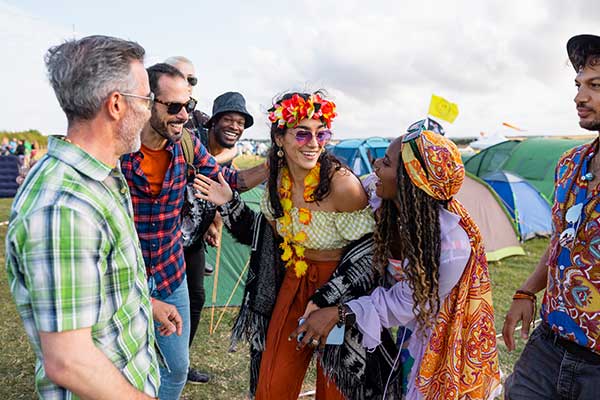 Some useful extras
A portable charger and a torch are two very useful pieces of tech, so you can keep your phone charged and have a way to navigate back to your tent after a late-night toilet trip. Earplugs are also useful if you're sensitive to loud noises or need it quiet to get to sleep.
A reusable water bottle is a good idea to keep yourself hydrated, as well as some snacks like fruit or breakfast biscuits that you can easily carry with you and have when you need a little pick-me-up.
Many festivals have a 'leave no trace' policy, encouraging festival-goers to tidy up after themselves. Bin bags are a good addition to keep all your rubbish together, as well as any wet and muddy clothes you have. If you don't want your tent after the festival too, lots of festivals have a drop-off point where you can donate your kit, so have a look and see what's going on.
Travelling by coach also means that you are doing your bit for the planet too! Did you know that a full coach could take over 50 cars off the road, removing over one mile of traffic congestion?
Now you've packed your bags, you're all set to go and have an amazing experience. Remember, you can enjoy affordable and convenient return travel to major festivals and other events on our coaches. Visit our Events page for more info.