Summer is here, and it's time to get out and enjoy the sunshine!
Whether you're going on a family outing or a trip with your friends, everyone loves to be beside the seaside. From a traditional trip for a lounge by the sea to visiting historical attractions, there's something for everyone to enjoy no matter your budget.
Making those summer memories doesn't have to cost a fortune, so we've come up with a list of budget-friendly things to do by the sea this summer. From Penzance to Blackpool, we've got you covered.
Brighton
Visit Brighton for everyone's favourite seaside activities. Take a stroll through the iconic Palace Pier, which is perfect for a photo opportunity, and perhaps put your spare 2p's in the arcade machines and win a little memento.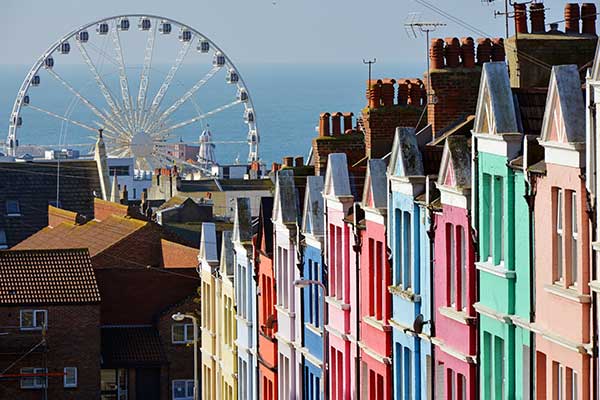 Dip your toes in the sea on Brighton Beach before rolling out your picnic blanket for a packed lunch, or if your budget allows, enjoy some fish and chips while you soak up the sunshine.
Why not finish your visit at the free-to-enter Booth Museum of Natural History? The museum is home to 525,000 insects, 50,000 minerals and rocks, 30,000 plants and much more, so you can count on seeing something interesting.
Bournemouth
Beautiful Bournemouth has something for everyone, whether you like the traditional beach day or are looking for something a bit different. If you want a quieter beach trip, visit Hengistbury Head Beach. There's so much to see, including Instagrammable beach huts, stunning cliffs and rare wildlife in the nature reserve areas, all with trails that will lead you around the sights.
For those that love history and architecture, visit St. Peter's Church. The construction of the church was completed in 1879 and is actually the final resting place of Mary Shelley, the author of Frankenstein. With information boards dotted around, this is a great spot to learn a thing or two, enjoy the artwork and take in the peaceful atmosphere.
Finish your visit with a picnic in the Lower Gardens. There are loads of beautiful flowers to sit amongst and friendly squirrels who may be curious about your picnic! There's also plenty to explore for free, including an aviary and art exhibition, or affordable activities such as mini golf.
Blackpool
You can't visit Blackpool without taking a walk down the Central Pier looking out over Blackpool Beach. You can enjoy the best of the British seaside here: affordable fairground rides, fish and chips and a stroll on the sand.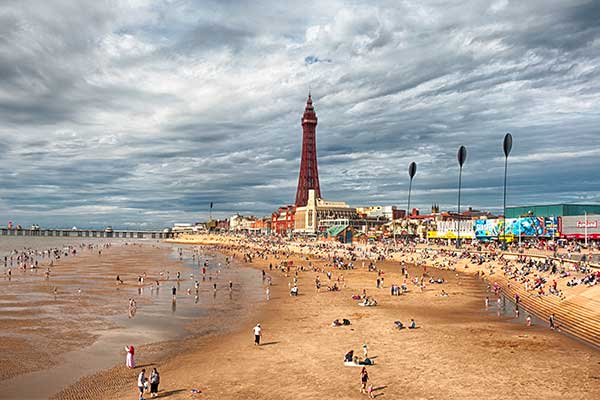 You're bound to find something that fills you with nostalgia at the free-to-enter Brooks Collectables and Toy Museum, which is full of vintage toys from Betty Boop to Corgi cars. Take a little piece of the memories home with you in their gift shop, or simply admire the mint condition of their original Star Wars figures and other rare collectables.
If you love animals, then Penny Farm is a fantastic place to add to your itinerary. Part of the World Horse Welfare organisation, Penny Farm is dedicated to rescuing and rehoming horses. You are welcome to explore the farm by walking one of their trails, which takes you through the horse fields and gives you a chance to learn more about the local wildlife too. Although free to enter, booking a time slot is essential.
Swansea
Swansea Beach is a fantastic place to soak up the sun and is just a short walk from the city centre, and a few minutes away from the coach drop-off. Kick off your shoes and feel the soft sand on your feet, make a sandcastle and have a paddle in the water!
For a fantastic picnic spot, head to Clyne Gardens, which is home to a wide variety of beautiful flowers and outstanding features. The gardens are overlooked by Clyne Castle, and as you follow the trails you will be able to see the wildflower meadow, bog garden and heather beds.
If you'd like to find out more about Welsh history, The National Waterfront Museum is a great place to visit and is free to enter. Here you can find out how industrialisation had an impact on every aspect of people's lives in an interactive and exciting space.
Cardiff
For the cost of a bus ticket head just out of the city centre to Penarth Beach, which offers beautiful views across the Bristol Channel and to the nearby islands of Steep Holm and Flat Holm. Take a walk along the beach for a chance to find a fossil!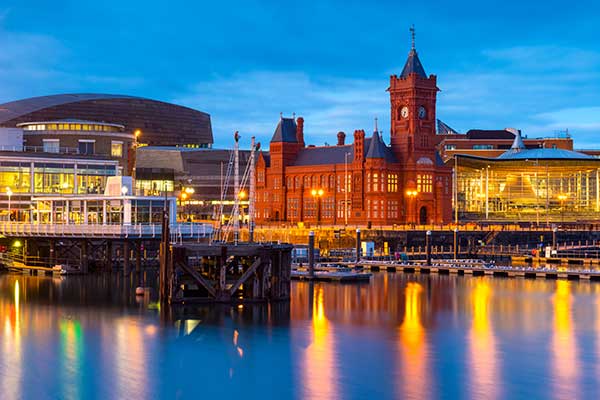 You can't visit Cardiff without exploring Cardiff Bay. This hub of activity is a great place to enjoy a stroll and will provide views of some stunning buildings, including The Pierhead Building, The Millennium Center and the Norwegian Church. After seeing what this bay has to offer, why not rest at one of the waterfront cafes for a coffee?
Discover Cardiff's story by visiting The Museum of Cardiff, which is free to enter. This unique person-centred museum will offer a unique look into the city's history. Each object on display has a personal story attached to it, showing how Cardiff's people, both past and present, have shaped the museum and the collections within it.
Plymouth
One of the best ways to enjoy this beautiful waterfront city is to take a stroll through Plymouth Sound. You'll have some stunning views over the water and will be able to catch a glimpse of The Breakwater, Drakes Island and Mount Edgecumbe too. If you fancy a treat while out on your walk, there are loads of nearby cafes and ice cream vans too!
If you love to learn, then stop by The Box - Plymouth's free-to-enter museum and art gallery. Here you can explore collections around all aspects of history in Plymouth, from their long relationship with the sea and their ports to their rich biodiversity.
If you prefer to relax and soak up the sun, Tinside Lido is the perfect place to lounge. For a small entry fee, you can enjoy this outdoor saltwater swimming pool and sun deck area, all overlooking the sea. You're welcome to bring your own food and drink too, so why not sit back on a sun chair with a book and a snack?
Penzance
With so many amazing beaches to choose from in Penzance, it can be hard to know where to lay your beach towel! Marazion Beach is a great location, and although it has plenty of nearby amenities, it never gets too busy. You'll be greeted with a striking view of a castle on St Michael's Mount, which you can even walk to at low tide. This is a fantastic spot to get that perfect photo for Instagram!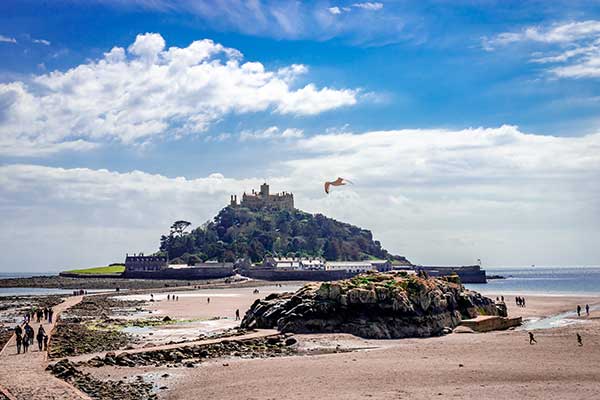 The stunning free-to-enter Morrab Gardens is 'the sub-tropical oasis in the heart of Penzance.' This is a perfect place for a leisurely stroll, and stopping to smell the flowers is encouraged! The garden is full of history too so not only will you leave feeling relaxed, but you may learn a thing or two.
Find out more about this beautiful coastal town by visiting Penlee House Gallery and Museum. For a small entry fee, you can explore collections both old and new with the museum covering over 6000 years of history, and the gallery displaying the best of Cornwall's artists.
Great Yarmouth
For a traditionally British coast trip, you can't beat Great Yarmouth! There are many beaches to explore, but Gorleston-on-Sea Beach has plenty to offer without being too crowded. Wander along the promenade to find a children's play area, and tennis and basketball courts, or head down to the splash pad on the beach.
Find out more about Great Yarmouth's maritime history by visiting the Lydia Eva Steam Drifter - the last 1930s fishing boat of its kind, and now a floating museum. Volunteers are on hand to welcome you aboard and give you a tour of this unique vessel.
For the perfect place to enjoy your picnic, head to The Waterways. This picturesque park consists of Venetian waterways, ornamental gardens and a boating lake. The winding waterways split up the park into islands which are all beautifully manicured with bright flowers and can be explored by connecting bridges. Sit back and watch the boats go by and perhaps spot a heron while you enjoy your picnic.
We hoped we've filled you with some inspiration and given you a few fresh ideas to make this summer one to remember. Wherever you're heading to soak up the rays, we have loads of affordable coach trips waiting to welcome you onboard. It's time to plan that summer adventure!
Visit our destination pages for more great summer getaway ideas!