Planning a trip this Mother's Day?
Whether you're venturing off to visit your mum, grandma, best friends or just fancy a solo trip away, then you'll be wanting the low down on the best places to try. DesignMyNight have put together a guide of the best things to do across the UK, ranging from decadent afternoon teas to immersive gaming experiences.
So what are you waiting for? Get your experiences (and coach) booked as soon as possible.
Mother's Day Pamper And Brunch At The Stratford Hotel - London
Show the special people in your life just how much you care by treating them to a day of relaxation, pampering and brunch at The Stratford Hotel. Start the day off the right way - with a dreamy hand and arm massage - and watch as your limbs turn to jelly. Afterwards, you'll be escorted down for a scrumptious brunch and a smoothie, all whilst being serenaded by a live band.
Top off the day with a nail treatment for that extra bit of luxury, well, just because. You can also upgrade to bottomless drinks for just £25 - a shout for those mums wanting an extra tipple.
Ready, Steady, Bake It - Leeds
Have your aprons at the ready and brush up on those culinary skills, it's time to Ready, Steady, Bake It. Treat your favourite lady to a baking experience like no other this Mother's Day where you'll get 90 minutes to bake and create something extraordinary (or edible) together.
Children from as young as seven can take part too, as long as they're supervised that is. Don't worry - all the instructions and equipment is provided to avoid any monumental disasters. Tickets start from just £35, so grab your baking partner and get your whisk on.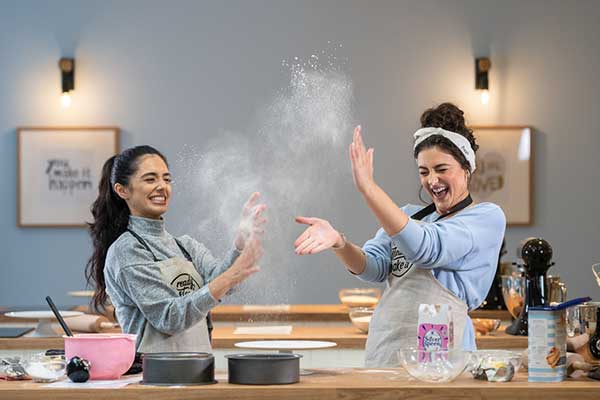 Mother's Day Bottomless Afternoon Tea At Cherry Jam - Manchester
Spoil the special lady in your life (whoever that may be) to a bottomless afternoon tea at Cherry Jam. They're offering some delightful treats, including a classic selection of sandwiches, cakes, scones and for those with an extra sweet tooth, strawberries coated in chocolate - all from just £19. There's even a children's version that includes mocktails and milkshakes, so be prepared for a manic sugar rush.
Why not get involved in musical bingo post-afternoon tea, there are plenty of cocktail prizes to be won.
Browns Brasserie And Bar - Brighton
When booking the coach to Brighton this Mother's Day, you'll naturally also be looking for the best spot to have a Sunday roast for under £20. Well, Browns Brasserie and Bar can certainly deliver. These guys are known for their hearty roast dinners that include slow-cooked pork belly, sirloin of beef and root vegetable wellingtons.
If you're celebrating Mother's Day mid-week, then take full advantage of their £15.95 three-course deal. Although situated in the buzzing centre of Brighton, this place oozes chilled-out vibes and sophistication - there's nothing more stylish than Brown's (other than your mum, obviously).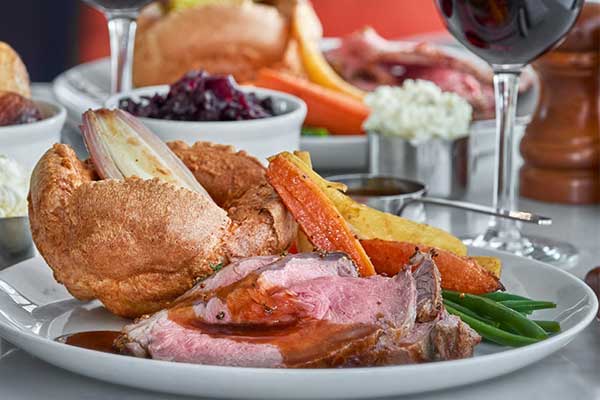 Paint Mate - Sip N Paint Workshop Mother's Day - London
Does your mum feel like an artist at heart, even if her drawing skills don't venture beyond a simple cartoon cat drawing? Then Paint Mate's Sip and Paint Mother's Day workshop is for her.
It's the perfect opportunity to experience something new with the leading lady in your life, so let your creativity flow and get ready to indulge in bottomless prosecco for two hours together from just £35.
You'll be guided through the whole experience and paint brushes, aprons and canvases are all provided, so no need to turn up with all the gear (and no idea).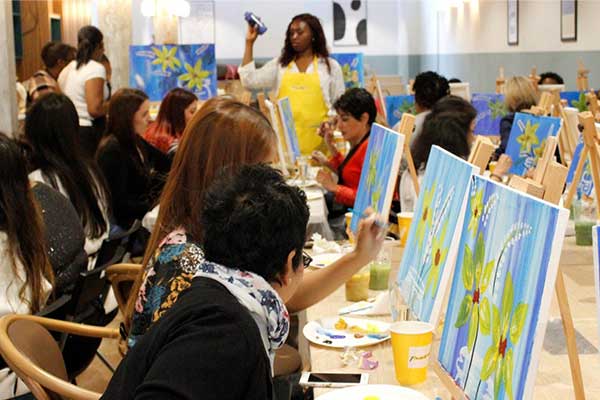 Immersive Gamebox - Manchester
For those of you with competitive mums, family members and friends, Immersive Gamebox will definitely appeal to you. This Mother's Day, why not choose from a whole host of interactive activities (some of which simulate the infamous Squid Games, minus the sinister stuff) which are perfect for all the family. You can choose to work in teams, or soldier on as opponents to see who will come out victorious - plus tickets start from just £10.
There are also plenty of soft drinks, as well as alcoholic beverages on hand because having loads of fun is thirsty work.
Windows Restaurant At The Carlton George Hotel - Glasgow
If you're travelling up to Glasgow for Mother's Day, then a visit to Windows Restaurant at The Carlton George Hotel is an absolute must.
This place not only boasts beautiful views of the city from seven floors up, but it's also the best place for a cheeky afternoon tea - it's only £16.65 per person too. It's also a great place to visit when you're wanting to escape the hustle and bustle of the city. Although it may be a little chilly, why not head out onto their outdoor terrace to really take in Glasgow in all its glory? (with a glass of bubbly in hand, of course).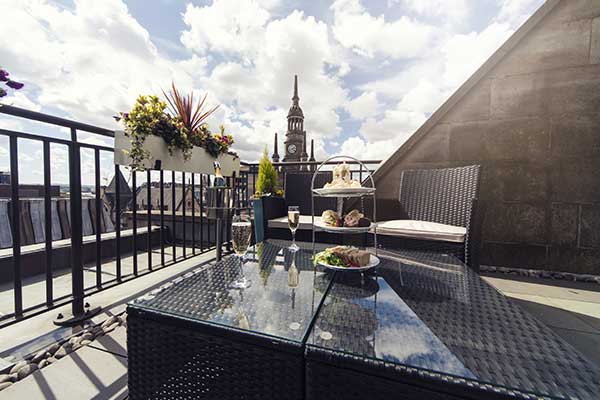 Lu Ban Bar And Restaurant - Liverpool
Indulge in some seriously amazing Chinese food this Mother's Day by visiting the award-winning Lu Ban Bar and Restaurant. Their weekend bottomless brunch is *chef's kiss*, as it offers roast dinners with a Chinese twist, seriously tasty Lu Ban noodles and pork dumplings you'll be dreaming of for days afterwards.
You can even opt for their £35 three course menu deal - perfect for a drop of indulgence on a budget. It's also a fab spot to bring your little ones, as they have an equally delish children's menu.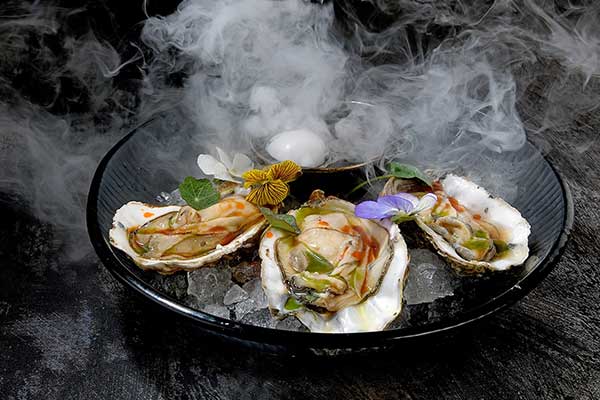 Mother's Day Afternoon Tea At The Montague On The Gardens Hotel - London
Looking for something a little extra decadent this Mother's Day? Then why not try The Montague's afternoon tea if you're planning a trip to the capital?
Set inside a beautiful Georgian townhouse, you can choose to dine al fresco style (although it may be a tad cold) or indulge in all their fabulous treats indoors, with a specially curated cocktail to wash it all down. Their afternoon tea menu filled with pastries and light bites also includes a children's selection - perfect if your kids are planning to pay the bill.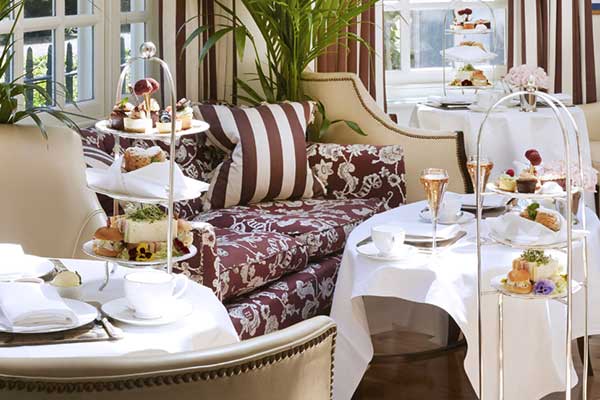 Mother's Day Free Gin And Tonic At The Birmingham Stable - Birmingham
There's nothing mums love more than their children… maybe except for a gin and tonic. Either way, if you're planning a trip to Brum, then ensure The Birmingham Stable is on your list. This Mother's Day, they're giving away free G&Ts if you dine with them - so it's definitely worth it making a booking.
That's not all you've got to look forward to as these guys also put on a mean selection of mouth-watering pizzas, mac 'n' cheeses and plenty of salads (you know what your mum said about eating your greens). Top the meal off with a Biscoff cheesecake for some extra indulgence and Bob's your uncle.
For more info on the best things to do on Mother's day in London and across the UK, visit DesignMyNight.com and follow us on Instagram and Facebook; @DesignMyNight.