It's finally the spooky season, and lovers of this time of year will be searching high and low for terrific and terrifying events happening across the UK.
It's time to brush the cobwebs off of your witches hat or cat costume and book in for boo-tiful brunches, deadly dance offs and freaky films this October. Wherever you're planning to travel this Halloween, DesignMyNight has you covered.
Halloween Ball At The Mansion - London
Travelling down to London and looking for something a little bit elusive this Halloween? If you're a fan of the unknown (you literally won't know the location until 48 hours beforehand) then the Halloween Ball at The Mansion will be your cup of tea. From just £30 per person, the venue is set with two spooktacular dancefloors, a VIP - very important pumpkin - lounge, live music, and 3D horror animations; it's going to be one to remember. The dress code is red Halloween, which could mean anything from the craziest costumes to a daring Jessica Rabbit look. 
Book your coach travel to London here.
Halloween At Stanmer House - Brighton
Looking for a perfect family friendly Halloween bonanza? Well, if you're headed to the south coast this October, then be sure to get some tickets to Stanmer House's Halloween event. Tickets are free for adults and only £5 for kids. There's plenty of activities set out for the day, including crafts, apple bobbing (it's gotta be done) and a spooky treasure hunt for all the family. Parents will also be pleased to know that there's face painting available, so you may be coming home with a skeleton or Spiderman at the end of the day.
Book your coach travel to Brighton here.
Scaremaze Brunch At Luna Springs - Birmingham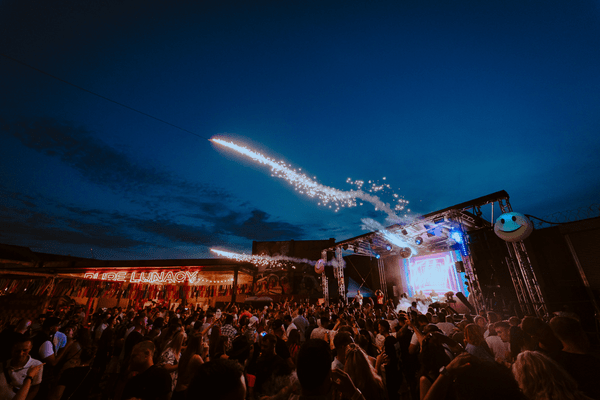 Birmingham's favourite party venue is hosting a Scaremaze Brunch this Halloween, and it's gonna be a good'un (so it's defo worth the coach fare). Book a ticket for Luna Springs and try out their Scaremaze - a terrifying trip through a nuclear facility that will leave chills down your spine. Don't worry though, your ticket also includes 90 minutes of bottomless bubbles, prosecco or beer, a street-food dish and plenty of tunes to help you forget the nightmares you would have just faced. Tickets start from just £29 - enter at your own peril. 
Book your coach travel to Birmingham here.
Disco Of The Dead At Ballie Ballerson - Edinburgh 
Boogie at Ballie Ballerson's Disco of the Dead this Halloween weekend. There'll be a whole host of fangtastic content, including blood bath ball pits, disco zombies and plenty of prize giveaways (you could bag yourself a £250 bar tab dressed as Wednesday Addams). You can nab a ticket from just £10 which gives you close access to the bar and ball pits, or opt for the free ticket if you're just wanting a chill one. You can stay for an eerie brunch or rock up in the eve for a boogie - drink up, witches. 
Book your coach travel to Edinburgh here.
Halloween Brunch Social At Flight Club - UK Wide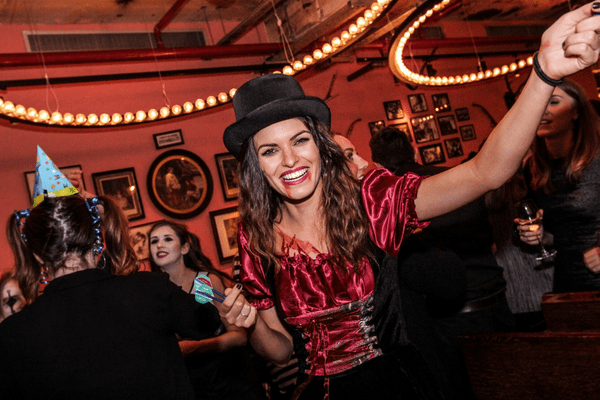 Brunch is a great spooky season activity. That's why a trip  to experience Flight Club's Halloween Brunch Social is a must. You'll get a creepy cocktail upon arrival, a bottle of bubbly each, and bottomless pizza. Chance to beat your friends and family to a game of social darts? Loser gets the round in. Dressing up is encouraged (so you better get planning) and you may even bag yourself a prize for being the best dressed. Trick or treat yo'self to a £30 ticket at any of their venues across the UK, including Cardiff, Bristol, Glasgow, Birmingham, London and Leeds.  
Halloween Bottomless Rooftop Brunch At Tivoli - Cambridge
You might think a rooftop brunch during October is barking mad - but Tivoli will change your mind. Their Halloween bottomless brunch will be jam packed with endless pizza, unlimited drinks and live music for 90 minutes. Their rooftop is now fully enclosed so you're able to wear whatever you want without feeling the autumnal chill (no need to pack extra jumpers for the trip). Pick your poison, with everything from prosecco, Aperol spritz, Pimms, bloody Mary's and beer, you can't go wrong. Tickets start from £39 per person.
Book your coach travel to Cambridge here.
Halloween Disco At The Rosendale - London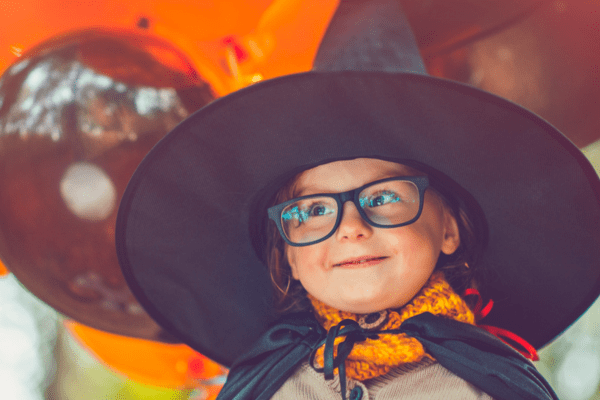 Kids love dressing up and a good boogie, so The Rosendale Halloween disco will be right up their street. Expect plenty of frightening fun in the form of ghoulish tunes, a bucket-load of sweets (sorry parents), face painters, pumpkin carving and a witch hunt with some pretty cool prizes up for grabs. For just £3 per child, they'll have access to all this excitement and will also be entered into a raffle, where families can win a meal for two at The Rosendale. 
Book your coach travel to London here.
Halloween Sip And Paint At Grub - Manchester 
Fancy yourself a bit of a Picasso? Or maybe you just love splashing paint around on a page - if either of those appeal, then definitely try out Grub's Halloween sip and paint. There'll be an array of spine-tingling tunes playing whilst you create your scarefully curated paintings. Choose from any of their house beers, wine, cider or spirits to enjoy (it's sure to get the creative juices flowing). All the equipment is provided and for just £30 per person, you'll be able to take your very own Halloween masterpiece home with you. 
Book your coach travel to Manchester here.
Dead Disco At Blame Gloria - Leicester 
Blame Gloria is a notoriously ghoulish time so be extra prepared for their Dead Disco. This doesn't just include a load of boooogying, there's also bottomless cocktails and a tasty brunch dish included to help with the dancing stamina. They want to see the most terrifyingly creative disco attire you own, with prizes for the best dressed. There'll be plenty of spine chilling entertainment along the way and tickets are just £35 per person - what's not to love?
Book your coach travel to Leicester here.
Rooftop Film Club At The Bussey Building - London
Watching scary movies throughout October is obviously a must, but why not make it a little extra spooky? The Rooftop Film Club are showing some proper creepers in the lead up to Halloween, including classics like The Exorcist, Scream and Hereditary. From just £16.95 you can head up this Peckham rooftop to watch your favourite haunting films whilst snacking on pizza and drinking under the stars. Don't worry, they're also showing Barbie for those not so keen on scary surprises (that's if you don't class Michael Cera as a jump scare). 
Book your coach travel to London here.
The Big Brunch Hip Hop Halloween At Freight Island  - Manchester
Get ready to throw some shapes at Freight Island's Halloween hip hop brunch this October. There'll be plenty of tunes to keep you grooving, plus a £35 ticket entitles you to 90 minutes of bottomless booze. You'll also be given a food token upon arrival, which you can use at any of their 14 food vendors - the Burgerism burgers are legendary. Drinks include tropical punch, gin 'n' juice, mimosas and Camden Hells lager. Indulge in all the good stuff and dance off that food coma afterwards to stop you from becoming totally zombified. 
Book your coach travel to Manchester here.
Scream Queens At Tonight Josephine - Bristol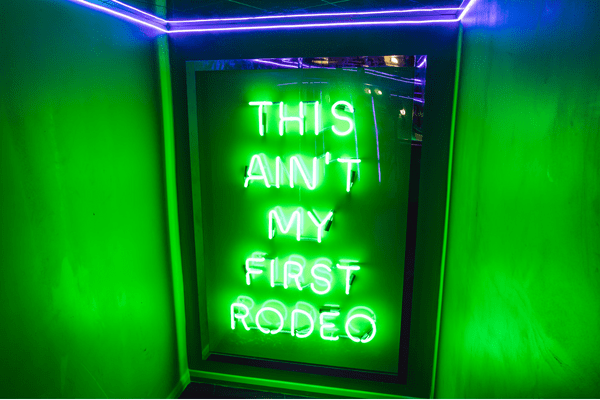 Tonight Josephine is famously doused in pink and fabulous. But in the lead up to Halloween, it's transformed into a devious den. Buy a £39 ticket for an experience hosted by the scream queens which is set to be jam packed full of immersive entertainment, 90 minutes of bottomless cocktails and tasty brunch dishes. They also encourage dressing up for the occasion, with the best costume winning a huge bar tab. This place is insanely Instagrammable, so be sure to take plenty of scary snaps throughout.
Book your coach travel to Bristol here.
For more info on the best Halloween events in London, visit DesignMyNight.com and follow us on Instagram and Facebook; @DesignMyNight.