Coca-Cola London Eye
2FOR1 £30*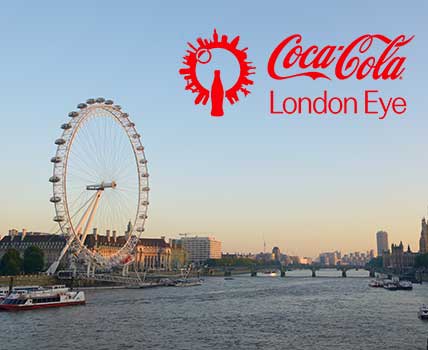 Riverside Building, County Hall, Westminster Bridge Road, London SE1 7PB

Nearest Tube stations: Waterloo and Westminster
A trip on the Coca-Cola London Eye is truly captivating, a 'must-do' and has been London's number one visitor experience for over a decade.
Step into your capsule and feel the exhilaration as you rise up over the Thames. Come face to face with the Houses of Parliament and Big Ben, before soaring above them - up to 135 metres on the world's tallest cantilevered observation wheel.
There are mesmerising 360-degree views of the capital laid out before you - London's most famous landmarks and up to 40km out of the city to Windsor Castle on a clear day.
Click the button below, wait for the promo box to appear and enter code.
Promo code:
 

nationalexpress

Terms & conditions

Offer not valid: 1 Jan; 8-23 Jan, 14 Feb; 30 Mar-2 Apr; 21,22, 28,29 Jul; 4,5,11,12 Aug; 21-31 Oct; 22,23,25,29,30,31 Dec. NB: A further two weeks will be excluded in Jan'19 due to maintenance. Please check website for details nearer the time. *Price subject to change.

'Coca-Cola', the Dynamic Ribbon Device and the design of the 'Coca-Cola Contour Bottle' are registered trademarks of The Coca-Cola Company.