To help us make our very difficult decisions on the winning entries, we enlisted a little professional help. Some of our favourite artists (and one non-artist!) will be helping us out and using their keen eye to choose their top posters.
You can find out more about them below: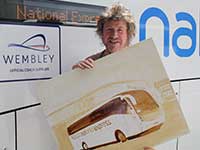 Paul Parkin - Midlands artist
Paul lives in Castle Bromwich and owns the Jinx Art gallery based in the Custard Factory in High St Deritend. He'll be judging entries from the Midlands. The professional artist, aged 56, is well known in Birmingham for his unique drawings made from coffee.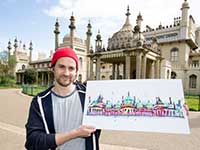 Richard Berner - South East artist
Richard is a professional artist from Hove and enjoys taking his inspiration from the people and places of Brighton. His work, which is available online and in local art shops, includes fantastical prints of some of the town's most famous landmarks. Richard, will be judging entries from the south of England.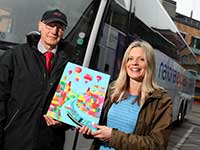 Jenny Urquhart - South West artist
Jenny will be judging entries from the south west. Jenny is well known in Bristol for her colourful cityscapes featuring hot air balloons and her work has been exhibited in galleries all over the south west, including The Royal West of England Academy. In 2015 Jenny was recently selected by Wallace and Gromit creator Nick Park to design a Shaun the Sheep sculpture for the 'Shaun in the City' charity summer art trail.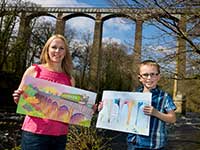 Alison Lodge - Northern artist
Alison is a children's illustrator from Wilmslow, Cheshire. Her work ranges from books for babies, novelty books and picture books, to children's murals and graphic design work. Alison will be judging entries from the north of England.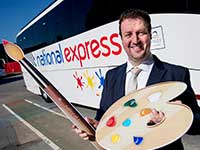 Chris Hardy - National Express
Chris is National Express Coach's Managing Director, he lives in Hertfordshire with his family and, as a father of three, he has plenty of experience judging children's art. He is excited to have been appointed as a judge on this year's panel and looks forward to seeing all the creative talent on offer.