Published 21 August 2019
It's not easy getting a foot in the door as an artist, especially when it comes to finding a platform to showcase your work on. That's why we came up with our Driving Design competition - our way of giving a young artist a one-of-a-kind opportunity to show off their skills. We had amazing entries of all shapes and styles come in from across the UK and the judging panel had a tough job creating our shortlist. We are pleased to announce that Sergej Komkov was our overall winner, beating stiff competition from seven other finalists in the online public vote.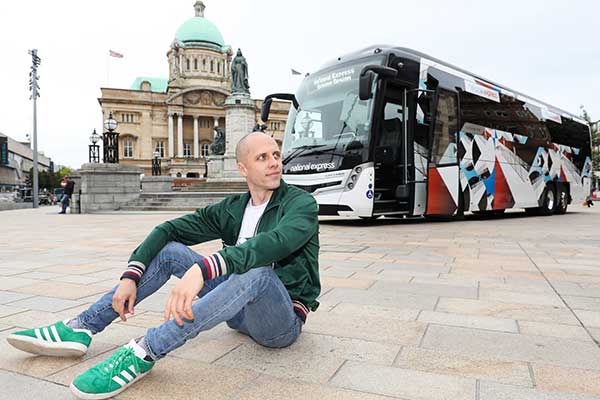 His striking design will now be seen on the side of one of our coaches for an entire year as it runs on routes taking in Hull, London, Scarborough, Derby, Felixstowe, Birmingham and Swansea.
Speaking of the competition, Sergej said: "The whole process, from beginning to end, has been amazing. It is such a big and exciting platform. I would encourage any young artists looking for a break to enter next year."
The winning coach was revealed to Sergej in Queen Victoria Square in the centre of Hull: "I am absolutely over the moon. To even be shortlisted amongst the other talented artists was an achievement, so I am very happy. My artwork combines elements of architecture with aesthetics of line, geometry and symmetry so to see that come to life on a huge coach is a dream come true. I'll be keeping an eye out for it in and around Hull."
Along with the main prize, Sergej receives a free 12-month coach pass, £500, and a one-to-one development day with an established artist resulting in their work being showcased at this year's High Vis Festival in Birmingham in September.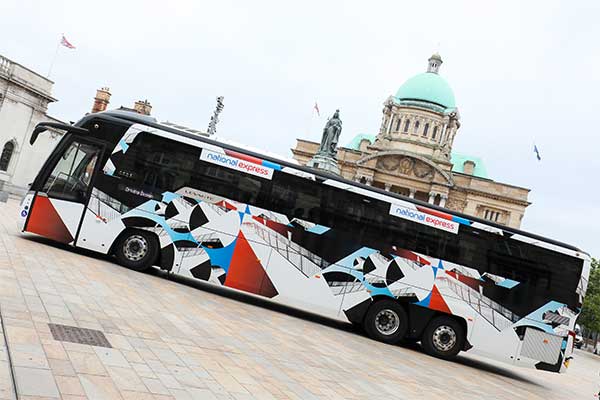 Sergej said: "I am excited to work with the artists from the High Vis Festival in a few weeks' time. We are currently in talks about the project that we will be working on. I cannot wait to learn more on the day and meet some influential artists. Who knows what this project could lead to?" 
Keep an eye on our blog for more updates from Sergej and don't forget to tag us on Facebook, Twitter or Instagram if you see the coach in your area!